"Today's flight will carry 7.5 tonnes of medical equipment and supplies, primarily the critical items needed for infection prevention and control to support health care workers in Iran," said Robert Blanchard from the WHO in Dubai.
تیم سازمان جهانی بهداشت با ۷٫۵ تن تجهیزات مبارزه با کرونا راهی ایران شد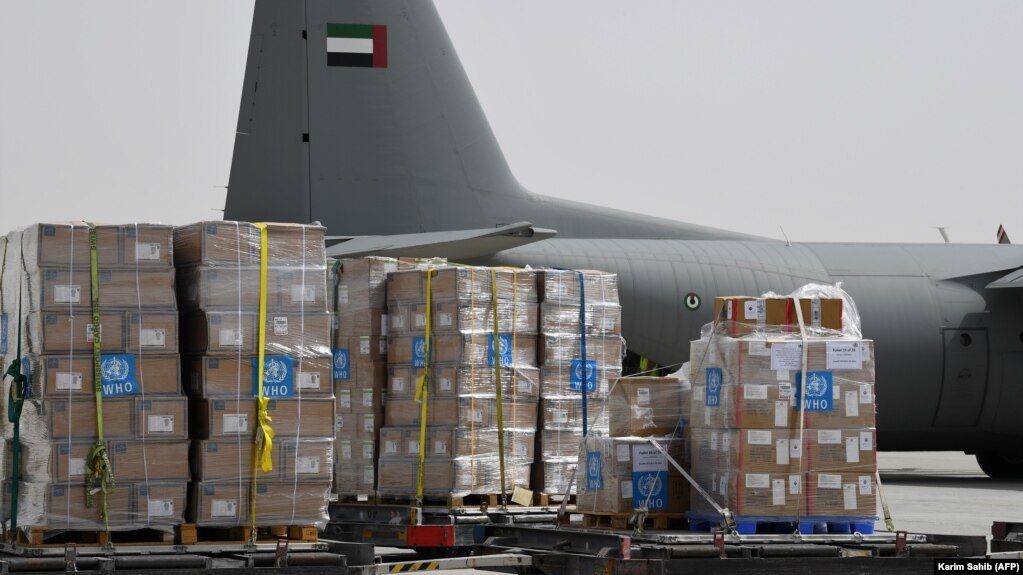 یک تیم شش نفره سازمان جهانی بهداشت با ۷٫۵ تن تجهیزات پزشکی، از جمله کیت‌های تشخیص ویروس کرونا، ماسک و دستگاه‌های تنفسی از امارات راهی تهران شد.
رابرت بلنچارد، نماینده سازمان جهانی بهداشت در دبی گفت این هیئت و تجهیزاتی به ارزش ۳۰۰ هزار دلار، روز دوشنبه توسط یک هواپیمای نظامی اماراتی راهی ایران شد.
وی گفت درخواست‌ها برای تجهیزات مقابله با کرونا در جهان افزایش یافته و این سازمان با کمبود مواجه است.
در میان تیم شش‌نفره سازمان جهانی بهداشت پزشکان، کارشناسان آزمایشگاهی و بیماری‌های همه‌گیر وجود دارند.
بر اساس آخرین آمار رسمی جمهوری اسلامی، تا روز دوشنبه ابتلای قطعی ۱۵۰۱ نفر در ایران به ویروس کرونا ثابت شده و ۶۶ نفر نیز درگذشته‌اند. آمار درگذشتگان در ایران بالاترین میزان بعد از چین است.
هم‌اکنون ۱۲۹ نفر در خود امارات، کویت، بحرین، قطر و عمان به ویروس کرونا مبتلا شده‌اند که بخش اعظم آنها از ایران بازگشته بودند.
قرار بود هفته گذشته تیم سازمان جهانی بهداشت و کمک‌های مورد نیاز به ایران ارسال شود، اما به‌خاطر مشکل ممنوعیت پرواز کشورهای همسایه به ایران، این کار با تأخیر روبه‌رو شده بود.